Elaine Boswell and Nan Barash believe they were destined to meet. In March 2015, Elaine was forced to find a new place for her tennis contract as her normal venue was closed for renovations.  She and her group found a temporary home at Radnor Valley Country Club (RVCC) where Nan belongs and plays.  As Elaine was walking off the courts and up the stairs, Nan greeted her and asked for Elaine's email. She seemed to be leading the group.  Nan thought she might want to play with the RVCC team in the future or get together for a friendly match.   When Nan took a look at Elaine's email, she asked what 0721 stood for and Elaine shared it was her birthday.  Nan responded that she could easily remember her email and her birthday as it was the day after her son's.  Shortly thereafter, Nan sent an email in follow up and Elaine's response was simply something had come up and she would not be able to play tennis with Nan at this time.  Nan didn't really give it another thought.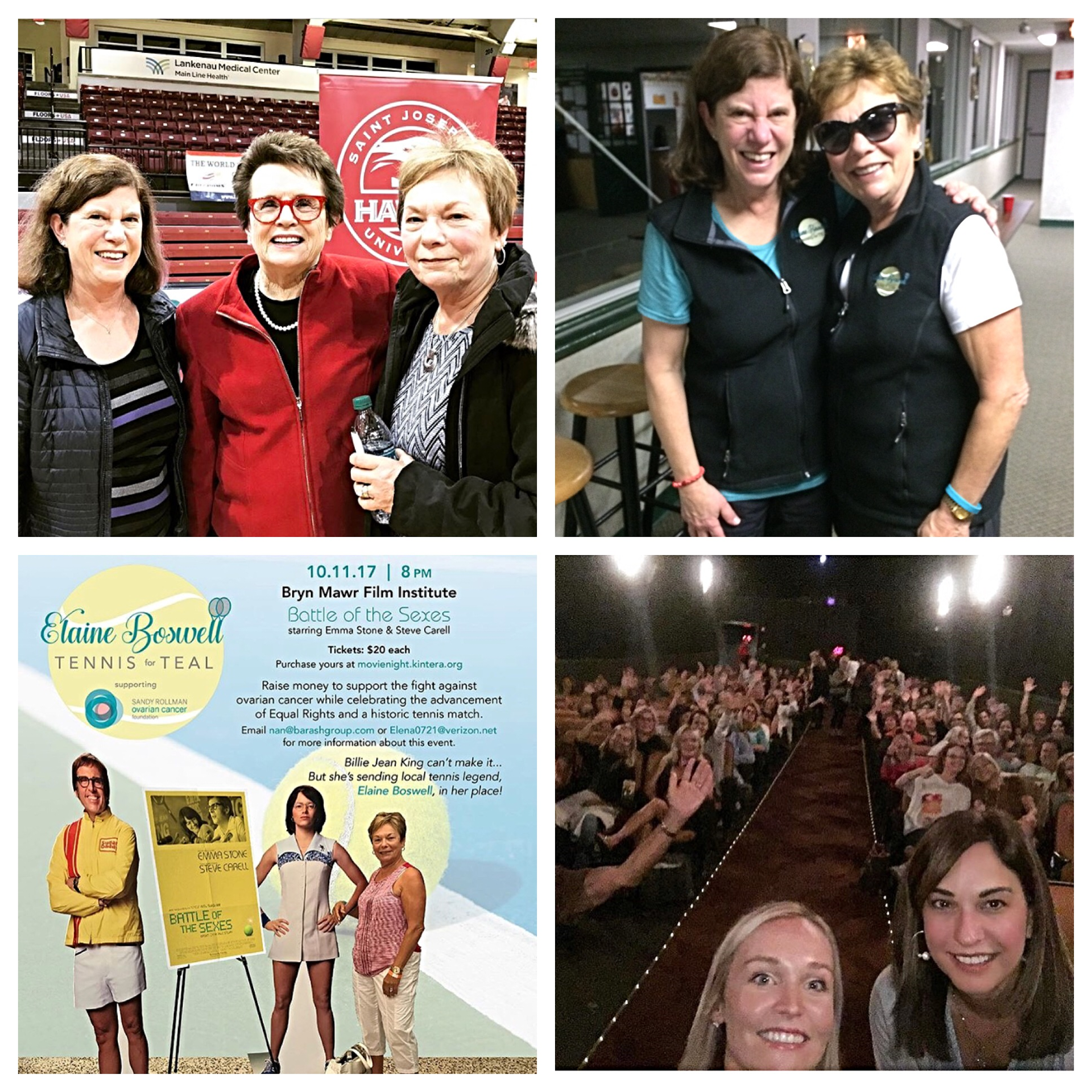 Fast forward to spring of 2016 and Nan was having dinner with the Executive Director of the Sandy Rollman Ovarian Cancer Foundation (SROCF), Robin Cohen. Nan had recently joined the board of the SROCF.  Robin was talking about the organization's new successes of the past year and mentioned a woman by the name of Elaine who had a Round Robin Tennis for Teal event the previous November at Springton Tennis Club and raised $8,000 as part of her recovery from Ovarian Cancer.  She thought Nan should meet Elaine.  She said if nothing else Nan could play in the event this year. Robin then invited both Nan and Elaine to join a conference call the following week for brainstorming for the 2016 SROCF gala. As everyone on the call introduced themselves, Elaine and Nan quickly remembered their chance meeting back at RVCC.  This had happened shortly before Elaine was diagnosed with Ovarian Cancer.   Robin had to interrupt their conversation, recognizing one another on the phone, so the group could get back to discussing that year's SROCF gala!  Nan & Elaine promised to have lunch and talk about the Tennis for Teal event and see how they could make it grow for 2016. That lunch started a friendship of two women who were very strong, determined tennis players touched by Cancer in different ways.  Nan had lost her father to Cancer at age 13, and a dear friend to Ovarian Cancer in January 2013.  Elaine and Nan would become the local Tennis for Teal team to increase awareness and revenue for SROCF through Tennis for Teal.  The second year, in addition to Springton,  Nan helped Elaine include two more clubs- Delaware Valley Tennis Academy Bryn Mawr and Brandywine Racquet Club.  Each of them ran a venue and Elaine's family ran a third one. They added Elaine's name and a logo to the annual event and with three locations, raised more than $16,000 in 2016.   In January of 2017, a 30 + year media friend invited Nan to attend a press conference at Saint Joseph's University where Billie Jean King (BJK) and the Philadelphia Freedoms would be playing their matches for that summer.  She asked if she could bring her friend Elaine along for the event, which was welcomed.  As Nan and Elaine made their way into the stands, they contemplated walking right up to BJK to say hello when she walked onto the courts.  Instead  they waited and decided they would approach her after the press conference was over.  Elaine quickly figured out who BJK's General Manager was, walked up to her, said hello and asked if she could just have a few minutes with BJK. Meanwhile Nan went behind the bleachers and found a few old tennis balls to grab a BJK autograph or two for the 2017 Elaine Boswell Tennis for Teal event.  As Nan & Elaine waited their turn in the line, the woman in front of them told her the story that her mother burned her bra when BJK beat Bobby Riggs.
BJK asked the question out loud, "What would have happened if I had not won that match?" That was the ice breaker for next up!  Elaine proudly extended her hand to BJK.  She said her name and announced that she was an Ovarian Cancer survivor.  Then she asked if BJK would sign the tennis balls for her event. BJK immediately took Elaine aside and wanted to hear her story.  She was curious about her diagnosis, symptoms, treatment and the testing available as she had recently lost a friend to Ovarian Cancer. Elaine shared her survivor story as well as the successes of the Tennis for Teal events and BJK said she wanted to help and to stay in touch. Elaine walked away promising she and Nan would work together to figure out a way for BJK to help.
Then this past July, Nan was invited to a VIP event at the Freedom's tennis and asked if Elaine could join her which was again no problem. Nan shared with Elaine she learned early on in the media world when meeting famous people, "make sure you are last in the line, you get the most time with the person."  So they patiently waited with clean new Tennis for Teal hats in hand this time for BJK autographs and Elaine was going to ask again for BJK's help.  As BJK approached Nan and Elaine, it was the first time in their special friendship that Nan witnessed Elaine without words.  It all of a sudden hit Elaine that she was asking tennis legend BJK for help for her small local tennis event.  While Nan was sure she was going to need to do the talking, Elaine's words finally came out and asked again about the possibility of her helping with Tennis for Teal. This time BJK asked for Elaine's card, which she did not have, and she promised she would help.  Nan handed her one of her business cards.  As BJK walked away, Nan shared with Elaine that her cell phone was having trouble receiving in-coming calls.  As only Elaine Boswell can say it, she told Nan, "You better go get yourself a new cell phone, pronto."  Then she quipped, "I am retired, what would my card say, Ovarian Cancer Survivor." Before leaving the VIP event, Nan asked Elaine to stand in front of the cut out for the upcoming release of the Battle of the Sexes Movie.  Elaine said, "What are you going to do with this picture?"  Nan replied, "I don't know, but we are going to do something. Now put your arm around BJK's (Emma Stones) and smile!"
And that they did!  The Bryn Mawr Film Institute (BMFI) had been generous with ticket donations for both of the Tennis for Teal events and their director encouraged Nan to stay in touch if she could ever help in any other way.  That kind offer had never left Nan's head.  After taking the photo of the movie cut out, Nan negotiated with BMFI for discounted movie tickets to allow SROCF to have a night at the movies with Battle of the Sexes on October 11, 2017.  It would be a perfect kick-start to the 2017 Elaine Boswell Tennis for Teal event, which was scheduled for November 11, 2017.  Of course Nan & Elaine invited BJK and she thanked them for the invite but she was unable to make it because she would be in Los Angeles that night for the movie release. She wished them good luck and thanked them for promoting her movie. They took pictures of the successful night of selling out the movie theatre and sent them along with another note to BJK.  They now had her attention!
After raising more than $23,000+ at the third annual Elaine Boswell Tennis for Teal event last November, Elaine looked Nan square in the eyes during clean up and said "I need a break and I  just want to show up just like I did at the night of the BJK Battle of the Sexes Movie."   Nan assured her they could figure something out, but they could not stop the momentum they had built in the tennis community in this area.
In December 2017, Nan was invited to join a phone call with BJK's GM who wanted to know how she and Elaine sold out the movie theatre and did they think they could do the same for Philadelphia Freedom's tennis. Could BJK use the name Tennis for Teal for such a night at the Freedoms? Nan said absolutely and now the 4th annual Tennis for Teal event will include a VIP pre match reception at the July 24, 2018 match at Saint Joseph's University in Philadelphia, PA.  This time the players who enjoyed the friendship and tennis on the courts of Tennis for Teal will need to leave their racquets at home, put on their best teal outfit and come cheer on Elaine and the Philadelphia Freedoms to raise awareness and funds for the fight against Ovarian Cancer.  And best of all, BJK has kept her promise to help Elaine and to all the other women fighting Ovarian Cancer and Nan has told Elaine to just show up!
Look forward to sharing this event with you and BJK!